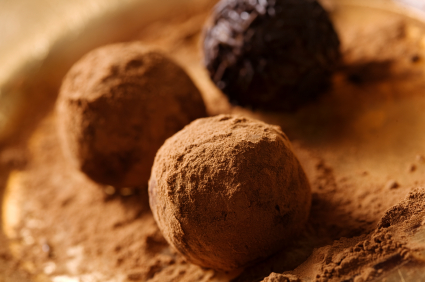 Who says you can't be both innocent AND a little naughty? These dark chocolate truffles are a healthier, waistline-friendly twist on a sinfully delicious favorite!
You Will Need:
4 large, pitted Medjool dates
2 tablespoons 85% to 100% dark chocolate chips, melted
1 tablespoon raw almond butter
Optional toppings to roll your truffles:
Cocoa powder
Almond meal
Unsweetened coconut
Directions:
Soak the dates in hot water for 10 minutes. Drain.
In a medium bowl, mash the soaked dates with the melted chocolate chips and almond butter, until relatively smooth. Mix in sweetener, to taste, if using. Scoop the date mixture by the generous ½ tablespoon and roll it into balls. Place your topping to roll your truffles (options listed above) on a plate, and roll the balls in it to coat. Refrigerate the truffles for 30 minutes to set-up. Store the balls in an airtight container or zippered plastic bag in the refrigerator for up to 1 week or in the freezer for up to 3 months.
These healthy truffles will actually stay tender when frozen, so they can be eaten straight from the freezer when the need arises!
Xoxo